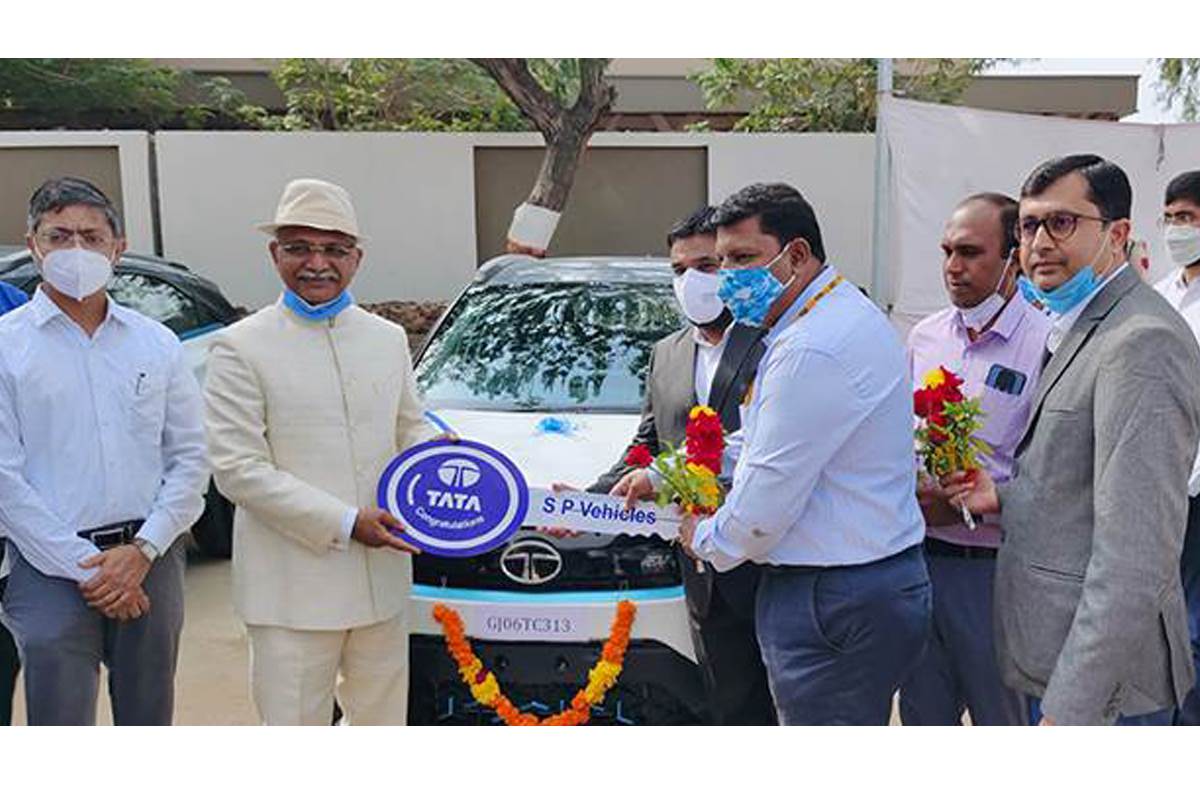 Gujarat government has received 10 units of the Tata Nexon EV from Tata Motors. Tata opted to work with Energy Efficiency Services Limited (EESL) on the contract to supply the new fleet of Nexon EVs. A few senior government officials will use the Nexon EVs to get to Kevadia, Gujarat, where the Statue of Unity is located. August 15 marked the handover ceremony of these EVs.
Tata Motors has actively pushed for the adoption of electric vehicles throughout the country. As part of the EESL tender it won in 2017, it currently supplies electric passenger cars to several government agencies and institutions.
Earlier, a shipping company in Kolkata, Garden Reach Shipbuilders & Engineers, received 14 units of Tata's new Xpres-T. By partnering with other Tata Group companies through its EV ecosystem, Tata Motors is accelerating the adoption of e-mobility in India, including Tata Power, Tata Chemicals, Tata Auto Components, Tata Motors Finance, and Croma.
The Nexon EV is currently India's top-selling electric passenger vehicle and commands an estimated market share of nearly 70 percent in the country's fast-growing market for electric vehicles. In India, the Nexon EV is currently in use by nearly 6,000 people.
Features of the Tata Nexon EV
The Nexon EV is powered by a powerful and high-efficiency permanent-magnet AC motor delivering 127 horsepower. It gets a powerful 30.2 kWh lithium-ion battery delivering high capacity and power. The car features 35 features for mobile devices including remote command capabilities, tracking of vehicles, navigation, and diagnostics.
Apart from the Nexon EV's SUV appeal, the EV boasts sorted fundamentals as well as an attractive price that is 7 lakhs less than its nearest rival. Towards making the Nexon EV's driving experience smoother and more user friendly, Tata Motors has tweaked certain aspects of the Nexon EV after analysing the driving behaviour of several EV users and incorporating relevant customer feedback into its latest software update.
India's Upcoming Tata EVs
On August 31, 2021, Tata will release the electric Tigor EV, expanding its electric vehicle portfolio. Tigor EV will likely undercut Nexon's price range of Rs 13.99-16.85 lakhs, thanks to Ziptron's technology. In other words, the Tigor EV has the lowest price among EVs available for Indian private buyers.