Mercedes-Benz has launched its latest AMG GLE 63 S Coupe in India and prices for the same start at Rs 2.07 crore (ex-showroom). It is the 12th AMG model to make its debut in India. It sits at the top of the range in the GLE range. Mercedes launched the AMG E53 and E63 S a month ago, demonstrating its commitment to India as part of its offensive AMG strategy. 
Exterior Design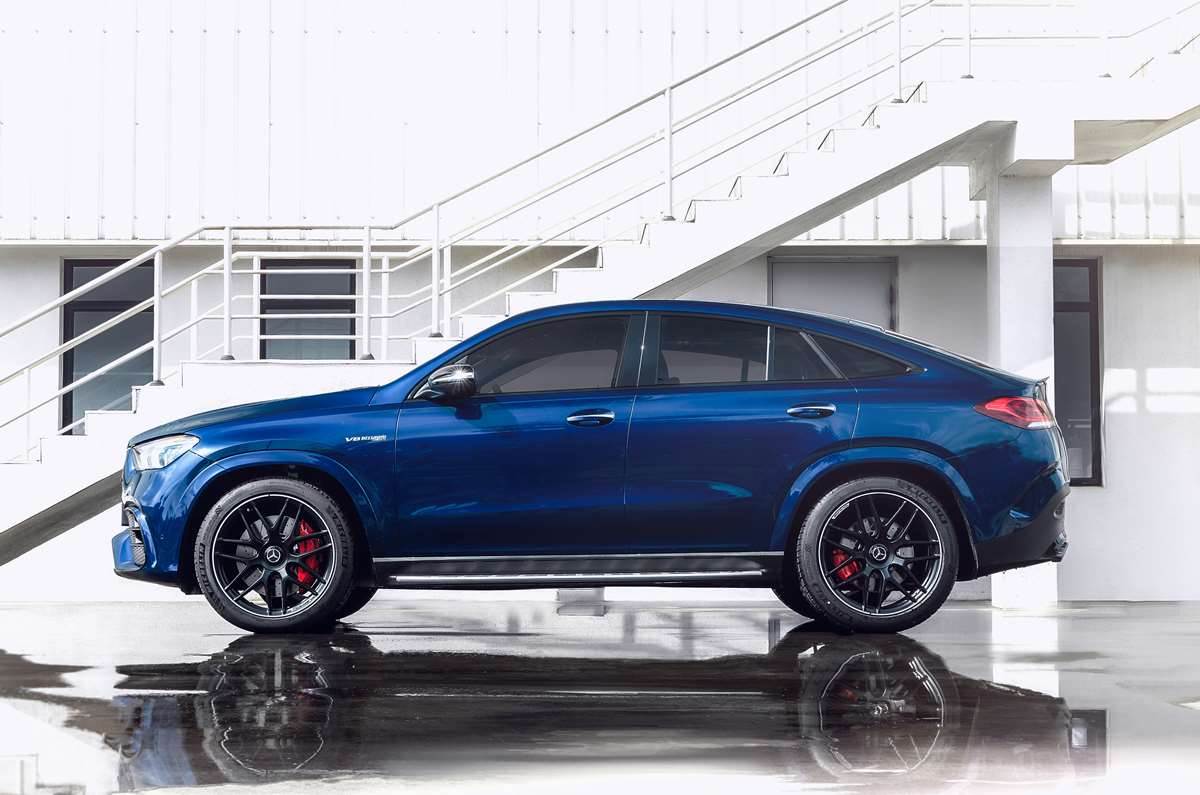 The Mercedes-AMG GLE 63 S Coupe is designed in the same manner as its small brother, the GLE 53 Coupe. With a silver chrome splitter and black gaping air intakes, the front end has been restyled with bespoke grilles and a restyled front end. With a chrome-finished 'Panamerica' grille and raised 'powerdomes' on its bonnet, this GLE range-topping version stands out from the standard variations.
As a result of the steeper windscreen slope and rear window rake, the GLE 63 S Coupe has a stunningly sloping roofline. The 63 S receives a black performance-style rear diffuser over the standard GLE, which houses a bespoke AMG dual exhaust system. A pair of 22-inch alloy wheels comes standard on the GLE 63 S Coupe.
Interior Design
A lot of the features in the cabin of the GLE 63 S Coupe are similar to those in the standard model. It would be hard to find any differences between the two. The interior of both vehicles features a dashboard comprised of two 12.3-inch screens (for the infotainment system and the instrument cluster) and a raised centre console that incorporates grab handles.
The interior does, however, display some AMG-specific features not found on the standard GLE. Besides a three-spoke steering wheel and aluminium shift paddles, it also comes with Nappa leather-wrapped seats and numerous AMG badges throughout the interior. Further individualisation of the interior can also be achieved by choosing from a variety of Mercedes interior trim elements. Optionally, AMG trim elements can be crafted from carbon fibre.
Powertrain Details
In order to understand what makes up this high-performance AMG, let us look at it from the inside out. The four-litre, twin-turbocharged 4.0-litre petrol V8 engine in the AMG GLE 63 S Coupe works in tandem with a 48-volt starter-alternator. The engine is rated at 612 horsepower and 850 Nm of peak torque in this top-spec 63 S. It also contains active cylinder deactivation technology, which turns off four of its cylinders when the load is low or when it is in 'Comfort' mode.
Additionally, it is the first AMG V8 model to be equipped with the 48V EQ Boost hybrid system. With this mild-hybrid system, you have 22hp and 250Nm more power when you need it. Automatic transmission with nine speeds is the powertrain's only transmission. The Mercedes 4Matic all-wheel-drive system delivers torque in a variable way to all four wheels. According to Mercedes-AMG, the GLE 63 S Coupe can speed up to 280kmph and reach 0-100kmph in 3.8 seconds. The 63 S variant gets exclusive Race mode, which is one of seven drive modes.
The GLE 63 S Coupe comes with air suspension as standard, as well as a 48V-based active roll stabilization system. According to Mercedes, the system not only improves handling when cornering but also makes riding more comfortable by counteracting one-sided bumps. Driving can be optimized by actively and optimally adapting body movements to driving mode.
Rivals in India
Mercedes-AMG GLE 63 S Coupe competes with the Lamborghini Urus, Porsche Cayenne Turbo and Audi RS Q8 in India.
Also Read – Mercedes-Benz Unveils its C-Class Estate All-Terrain